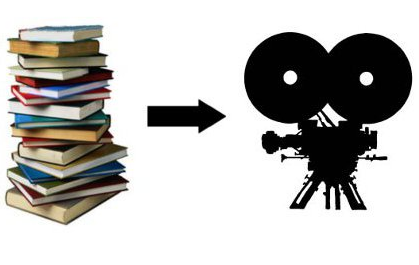 Novels are frequently adapted into movies. However, there are numerous titles that have not been adapted. What's a teacher to do?
When reading class novels, here is frequent asked question that I receive, "Is there a movie?" If I earned a penny every time that I heard this question or some variation of this question, I could easily build my dream home without a mortgage.

Students love watching film adaptations, and I wholeheartedly believe that film adaptations can be a great way to extend learning. There has never been an occasion in my class where we just watched the movie. I always incorporate intentional activities that serve as remediation or enrichment.
Now here is the question...what can I do when there is not a movie version of my class novel? In those scenarios, I actively search for movies that have similar themes and topics. It can be a challenge to find the perfect fit, but a fun challenge nonetheless.
Here are some samples of my mergers:
A few years ago, I developed a complete Author Study on the beloved Roald Dahl. We read Charlie and the Great Glass Elevator, the sequel to Charlie and the Chocolate Factory. The first book has two movie versions while the second book does not have one. I searched and searched until I found The Astronaut Farmer starring Billy Bob Thornton. The movie like the book revolves around a character named Charlie who travels to space. Their paths to space are quite diverse, which led to engaging classroom dialogue.
The movie version of The Giver is currently in production. When I read the book last year, I had to improvise. I opted to utilize The Princess Diaries starring Academy Award Winners: Julie Andrews and Anne Hathaway. In both the book and movie, a character is selected for a huge responsibility as well as trained by a knowledgeable, seasoned mentor.


The Absolute Value of Mike and The Odd Life of Timothy Green both depict strong, protagonists who change the lives of the local townspeople that they encounter.
I like to utilize the ABC Brainstorming Sheet (Below) when relating a novel to an unconventional movie. The movie title functions as the topic, and I have the students to put the book title in parenthesis. I instruct my students to search for connections within the movie and write the word or phrase beside the appropriate letter. In parenthesis, they write how the word or phrase relates to the book.
Topic: The Odd Life of Timothy Green (The Absolute Value of Mike)
A- Adoption (Mike tries to help Karen adopt Misha)


I personally believe that teachers can sometimes get more mileage out of comparing/contrasting books to movies that are not the exact story because it drives the students to watch the movie more intensely and critically. Plus, they have to evoke key scenes and memories from the book.